Creativity sees no limits. Words, visuals, movements, you name it; There's no channel too simple or complex for artists to tap into to unleash their inner muse. In JoJo's case, the 25-year-old pop star has over 20 channels of expression inked across her body.
Just last week, the comeback kid, who recently dropped her new Wiz Khalifa's-assisted single, "F**k Apologies," took to iHeartRadio HQ in New York City for a one-on-one interview to talk about the track, her 8-years-in-the-making third album, Mad Love, and, of course, the meaning behind some of her body art for another installment of "Tattoo Stories."
"I really try to drop the anger and think of it more as assertiveness and empowerment, you know? I have things to be angry about, but I just need to be confident in who I am," JoJo said of the slinky kiss-off single, which finds the singer decisive, aggressive, and ultimately giving absolutely no f**ks. "Just be unapologetic with who you are, is what I want to be, what I want to continue to grow into so. That's what it is."
And, as easy as it could be for her to turn the other cheek, JoJo remains as sensible as they come, leading you to say "Point taken."
After a lengthy legal war against her former label Blackground Records, which prevented her from releasing new music, the singer is almost two month out from unleashing the heavily delayed follow-up to 2006's The High Road. It's scheduled to drop on October 14 and features the aforementioned Khalifa, Alessia Cara and one mysterious female guest. Asked how she feels about the looming release date, JoJo confessed there's probably too many feels happening inside her head right now.
"Oh, so many feels, but I think more of the right feels, you know? I just didn't feel like I was being 100% myself, so that's why I wanted to get back into the studio in this new year and start, essentially, from scratch," she explained of excluding her 2015 tringle of singles from the collection. "I just wanted to make sure that I was giving my honest self to my fans."
Following almost a decade of waiting in pop culture limbo, do you really blame her? JoJo was finally relinquished from her legal chains in December 2013 and wanted to make the LP just right. And, of course, just when you think you have it all together, life hits you at the most unlikely times. Late last year, the singer's 60-year-old dad, Joel Levesque, unexpectedly died in his sleep. It was something that influenced her new music, outlook on life and, yes, one of those channels of expression inked on her body.
"Honestly, like anytime I go through something where I have deep feelings, I actually really like to get a tattoo or get it redone. That might be weird, but [I like] to mark it with that feeling," JoJo revealed. That said, I asked the obvious: "Are you going to get a tattoo in honor of Mad Love?"
"As we get closer to the album date, I'll probably have a lot of feelings that I'll want to memorialize in a tattoo but I don't know yet," she said firmly. Take a look at some of JoJo's most meaningful tattoos below!
JoJo on the stories & meaning behind her tattoos
Dinosaur skeleton located on her forearm: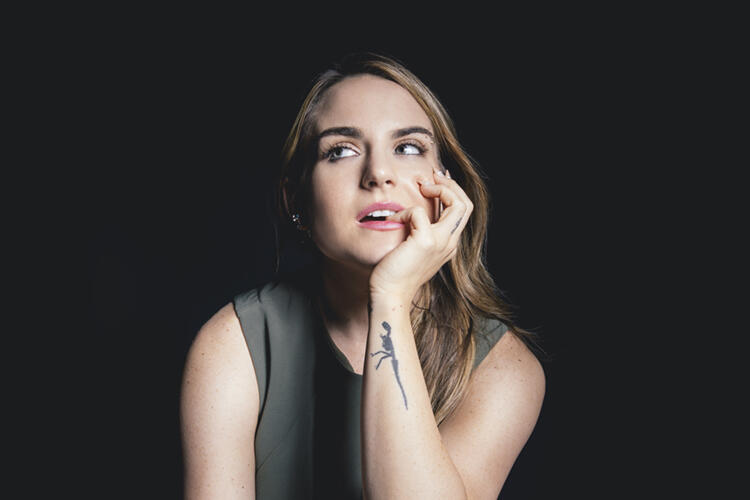 "I have a T-Rex right here [on my forearm]. It's a T-Rex skeleton. I always played with dinosaur figurines when I was a little girl. It was just a thing I loved to do. I would create habitats for them, and environments, so he's kind of my protector. I fear dinosaurs, and I'm also fascinated by them, so it's the fear and the fascination, I suppose."
World map on one wrist: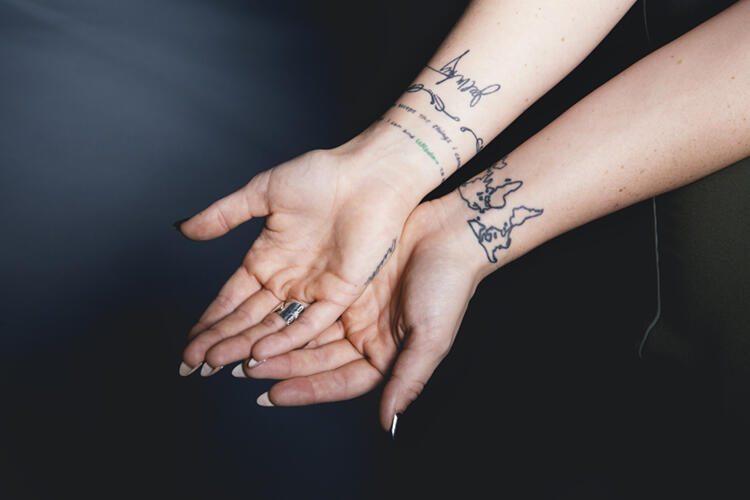 "It's a little bit distorted. I did this at a tattoo party that I had at my apartment, and the tattoo artist was a little under the influence at the time. (Laughs) It's not perfect, but you get the point of it. It is really hilarious."
"Serenity Prayer" message on the other wrist: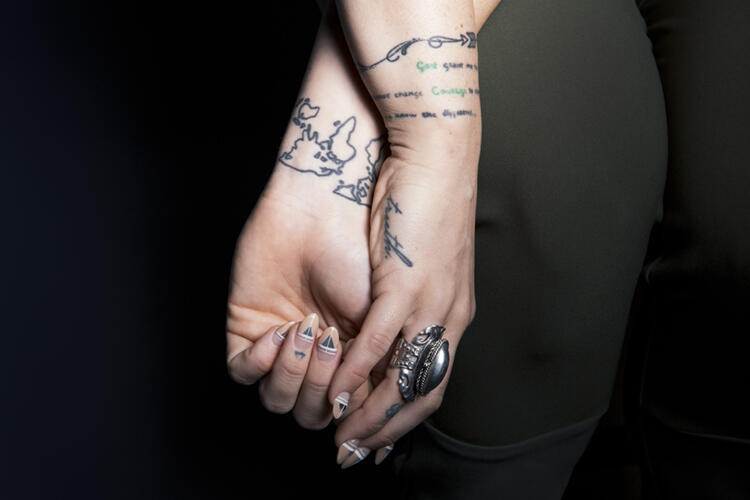 "Here is the Serenity Prayer which says, 'God, grant me the serenity to accept the things I cannot change, courage to change things I can, and the wisdom to know the difference.' I have some keywords in green to go along with my green shamrock for Boston.
Glyphs on her fingers:
"These are mistakes. They should have been more glyphs. They did have significance. They did have a meaning to them, but now I chalk them up to mistakes because they faded. Now I just look at them and I'm like whatever. It happened."
Her finger web: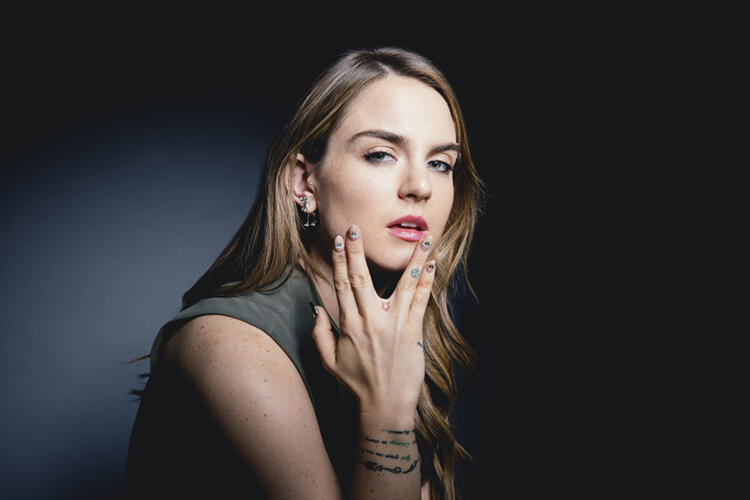 "I got this from like an 80-year-old man in Providence, Rhode Island. I was like, 'Have you ever tattooed someone's web before?' He was like 'No.' I was like, 'Do you want to try?' He was like, 'Sure.' (Laughs) I just kind of wanted to be able to [spread my fingers], and then so when I met Pharrell, he was like 'Oh cool.'"
Music clef on her finger:
"This was my first [tattoo]. I was 17. I snuck away from the hotel room that I was at with my mom, and I went with this makeup artist that I used to work with, and she took me to get a tattoo. I came back, and my mom was like, 'It's trashy. I'm so disappointed in you.' I was like 'Well, good thing it's not on your body.' (Laughs) She doesn't really care for them, but I think she's like 'That's just Jo being Jo,' you know? That's just her. I'm glad that she's accepting that to me tattoos are permanent accessories, and I'm an accessory girl."
JoJo's late father's signature on her wrist: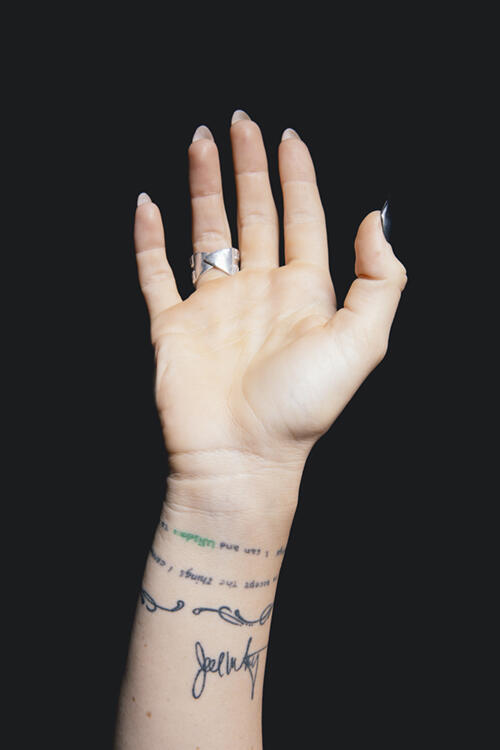 "If you can't tell, our last name is Levesque, but that was his signature. After he passed, I brought a statement of his to the tattoo artist I worked with right before I did my show in LA for the last tour I was on."
Music notes in her ear: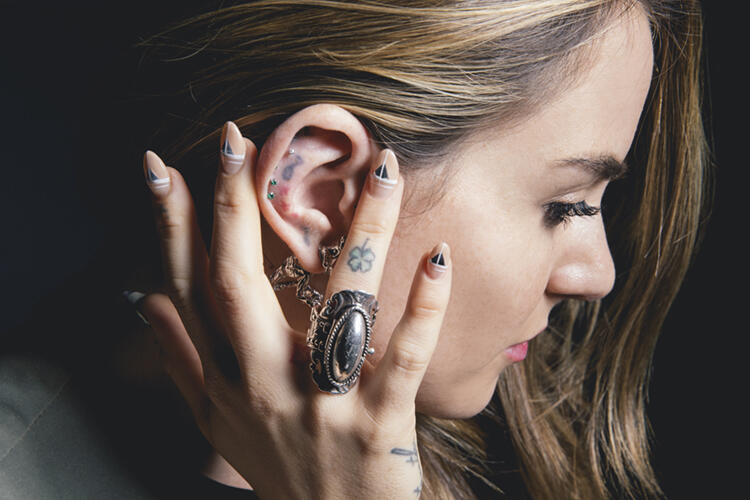 "I got [these] done at Shamrock Social Club in L.A. on Sunset and they're just music notes in my ear. Now I have piercings in it, too, and I should probably chill out on doing things with this ear. My ear is probably going to fall off. It probably hates me." (Laughs)
New Hampshire pride on her neck: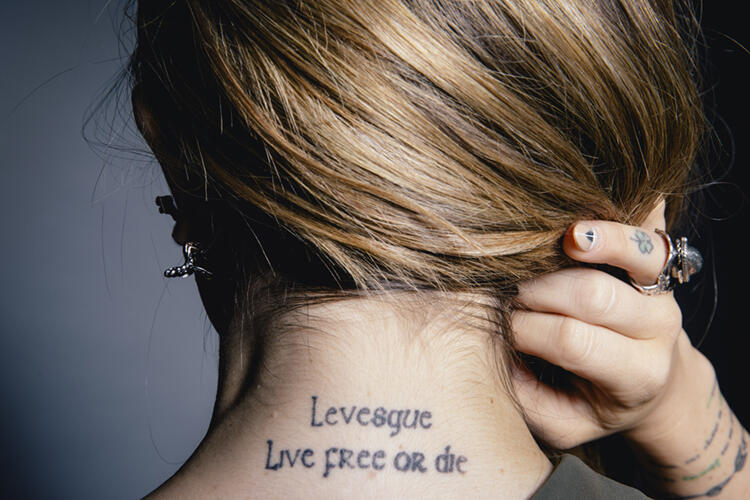 "I think it says 'Live free or die,' and then also my last name, which is Levesque. 'Live free or die' is the New Hampshire state motto, which I think is the trillest state motto of all of America. I was considering naming my album that, but then I was like 'No, that's too intense. Let me chill.'"